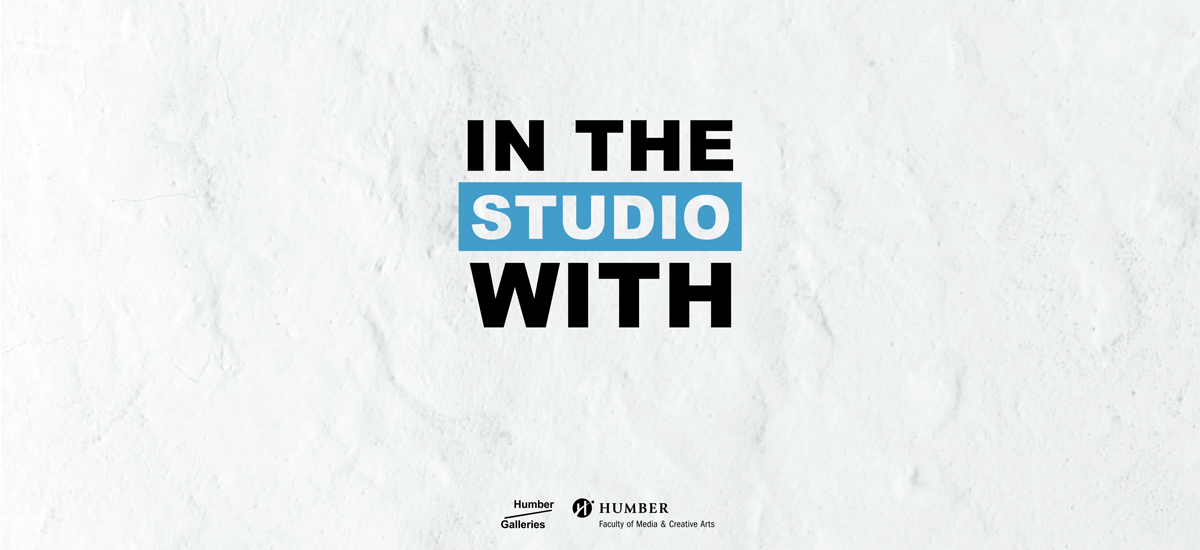 Now, more so than ever during this pandemic, we are able to connect to people and places in a more direct way through digital media. This past summer, Humber Galleries connected with artists who were somehow related to the college-either as former exhibiting artists or as artists with work in the corporate collection. They invited viewers into their studio spaces and discussed such important and timely questions as how they have adapted their practice to the new "Covid-era", as well as how they remain connected to the art community while in isolation. 
Award-winning musician Mason Victoria primarily composes for humans, but has been known to occasionally write for robots. As a music technologist, Mason blends his unique jazz vocabulary with his newfound appreciation for audio design and sound manipulation. In addition to his vast amount of original live content, Mason focuses his creative energy scoring video games, short films and directing his large ensemble, the Sonuskapos Jazz Orchestra.
Visit @masonachu and www.masonvictoriamusic.com to view more of his work
Chief Lady Bird is a Chippewa and Potawatomi artist, illustrator, educator and community activist from Rama First Nation and Moosedeer Point First Nation. Chief Lady Bird (Ogimaakwebnes) is her spirit name, which she uses professionally as an artist. Her art is focused on foregrounding the experiences of Indigenous women.
She holds a Bachelor of Fine Arts from OCAD University, where she studied drawing and painting, with a minor in Indigenous Visual Culture. After her studies, she continued to work in Toronto, Ontario and recently moved back to Rama, First Nation.
Visit @chiefladybird to view more of her work
Jacquie Comrie is a Toronto-based multidisciplinary artist whose vibrant body of work intersects contemporary art and wellness at a global scale, using colour as a medium of social impact and mental health. 
Whether as murals on buildings, large scale structures, or canvases, her body of work is a dynamic exploration of the science of colour as the universal language of human emotion. Colour has been proven to have a direct effect to human emotion, for which her palettes are consciously designed and orchestrated aiming to cater to mental wellbeing at large. 
In such divisive times, and with mental health issues on the rise across the globe, her work aims to contribute to much needed spaces of mental elevation and reset, to ultimately help improve quality of life of all individuals- one wall at a time. 
Visit http://jacquiecomrie.com and @jacquiecomrie to view Jacquie's work.
Anya Mielniczek is a Toronto based Polish-Canadian artist who grew up between the city in Canada and the country sides of Poland. As a mixed-media artist, her work explores combinations of both fine art and street dirt mediums. 
Mielniczek takes easily discarded materials such as plastic bags and candy wrappers adding value to what otherwise is considered trash, while drawing attention to our consumeristic tendencies and the implications this has on our environment. Inspired by waste, moody images and the treatment of our natural resources her pieces are emotionally charged, experimental and responsive to the time and place she's creating in. The artist's work is both figurative and representational, compiled of layers, textures, and the energy felt in unaltered lines. Decidedly playing between a real and fantastical aesthetic forming a greater narrative pertinent to environmental change –informing herself as well as viewers, of the obstacles our finite world faces in light of our hyper consumption. 
Having graduated from Queen's University in 2012 with a BFAH, Mielniczek completed a year long fellowship with The Living Arts Centre in Mississauga in 2014 and most recently was an artist in residence for a 9 week duration at INSTINC Studios in Singapore, 2016. Earlier this year, the artist was commissioned to create an artwork at Humber College, called Humberthropocene. 
Visit http://anyamielniczek.com and @anyamielniczek to view Anya's work.
Krystal Moodie  is a Jamaican-born photographer, now residing in Canada. Her background includes experience with graphic design, an honors degree in Computing and Information Technology, and a Diploma in Creative Photography from Humber College. Photography has always been a part of Krystal's life. It began with her wonderfully creative Mother who took endless pictures of herself and her sister as they grew over the years.  
Krystal's love of photography was stirred by seeing those pictures years later, and being able to enjoy and relive the memories. This led to her desire to pursue photography. In 2010 Krystal was awarded Most Outstanding Emerging Artist under 30, Most Outstanding Newcomer under 30, as well as a silver medal in the JCDC national competition in Kingston, Jamaica. Krystal was featured in Panache Jamaica Magazine's winter edition of 2010, as one of the Caribbean's outstanding photographers, and was a part of The Mutual Gallery's Art Fresh Exhibition in 2012 where she exhibited two Triptych series.  
One of her main goals in photography is to be able to tell stories with the images she captures, whether in landscape photography, portraiture, or food photography. Krystal is a firm believer that images should speak for themselves, and should evoke emotion and thought in the viewers mind. Krystal fell in love with food photography whilst a student at Humber and continues to work on various bodies of work in the hopes of one day showing her work in a solo exhibition. 
Visit https://krystalmphoto.com and @krystalmphoto to view Krystal's work.
Jacob Whibley uses collage, sculpture and drawing to produce artworks that foreground the residual marks and histories of the materials he works with. These materials also acknowledge the aesthetics of early modernist art, architecture and design. Whibley's use of old books, index cards, wrappers, office supplies and other paper scraps serve as fitting materials to explore our relationship to the stuffs of a lived life and the traces we leave behind. The Toronto-based artist exhibits regularly in Canada and has work in the collections of the Art Gallery of Ontario as well as numerous private collections. 
Visit http://jacobwhibley.com and @vabrik to view Jacob's work.