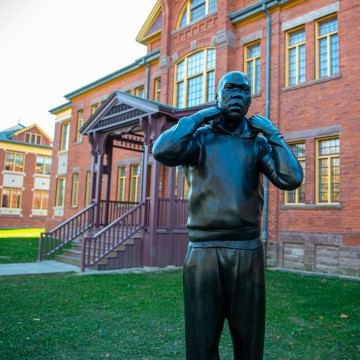 TORONTO, ONTARIO - November 20, 2019 – Humber College's Lakeshore Campus is increasingly a destination for art exhibits and installations in Toronto, including being named as a primary location for Nuit Blanche's expansion to Etobicoke.
The college will showcase Cover Up (The Reveal), a sculpture by British artist Thomas J. Price, until May 2020 outside of C Cottage at the Lakeshore campus.
Thomas J. Price is a contemporary British artist best known for his figurative sculptures. Price combines Western sculptural traditions and modern materials to challenge the pervasive problems of the underrepresentation and misconception of Black people in the art world and broader society.
The monumental nine-foot bronze sculpture is on loan from The Power Plant Contemporary Art Gallery, Canada's leading public gallery devoted exclusively to contemporary visual art.
"Humber has a long history of involvement in and dedication to the arts," said Jennifer Gordon, Director, Centre for Creative Business and Innovation and Humber Galleries. "We are proud to partner with The Power Plant to bring Cover Up (The Reveal) to Humber as part of our ongoing commitment to showcasing our campus as a canvas."
Cover Up is a Power Plant curated, touring exhibit that is also in partnership with the Centre for Creative Business Innovation and Humber Galleries. It was sponsored by The TD Ready Commitment and supported by Lead Donors Steven and Lynda Latner and Donor Rennie Collection.
"Accessible arts education is one of the foundations of The Power Plant's exhibitions and public programs," said Gaëtane Verna, Director, The Power Plant. "As part of our touring exhibitions, this inaugural partnership will help extend the conversation beyond the gallery walls."
-30-
About Humber College Institute of Technology & Advanced Learning 
Humber College is focused on our students' future. As a global leader in polytechnic education, Humber students receive in-depth theoretical learning and hands-on experience with applied research and extensive industry connections. Humber provides career-focused education to more than 33,000 full-time and 23,000 part-time and continuing education students across three campuses. A comprehensive range of credentials including honours undergraduate degrees, Ontario graduate certificates, diplomas, apprenticeships and certificates, prepare career-ready global citizens to move seamlessly from education to employment. More than 86 per cent of Humber graduates are employed within six months of completing their studies. Visit humber.ca.
For more information, please contact:
Nadia Araujo
Media Relations and External Communications Specialist
Humber College Institute of Technology & Advanced Learning
nadia.araujo [at] humber.ca | 416.675.6622 ext. 5479