Phase 2 Work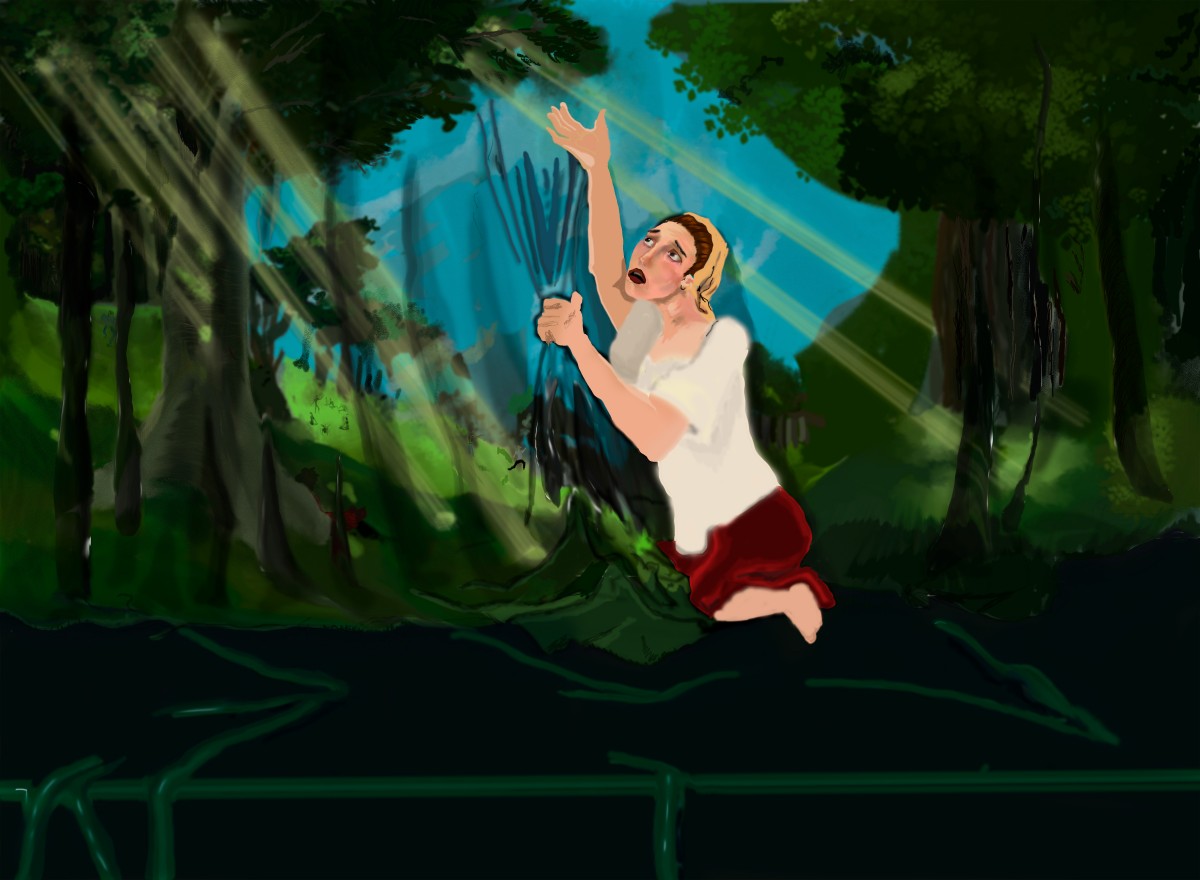 Longing - Isabel Cevallos
Digital Painting
Based on The Sense of Normality by Anna-Lisa Barrett
Artist Statement:
This art piece wasn't the most satisfactory work personally. I made this through the course of several days, but it didn't become what I wanted it to. Based on Anna-Lisa Barrett´s poem, 'The sense of normality'. The art piece features a lady grasping at a curtain backdrop, said drape simulates the outside, with lots of nature and only a few depictions of people. The mostly green color pallet was a choice to reminisce on the nature in my hometown. The way she looked at the sky and grasped at the scene was meant to dramatize the pain I found once I understood the poem. The writing spoke to me through the longing for the outside life in the pandemic. It had many aspects I didn't focus on because what I had decided to highlight, was the feeling of loneliness, isolation, and desperation. This were the feelings I wanted to show as dramatically as possible.  
Even after the pandemic that feeling stuck around in different ways. For some reason the sentiment that was expressed by the poem, I associated with the pain I felt migrating to study in Canada. I still felt so alone and lost and desperate. I suppose the desperation tied to both situations were ones of distress for connection, and for the special moments that were lost in time.
---
Phase 1 Work
Solitude 2022 - Isabel Cevallos
Photography and Digital Painting
Artist Statement:
The pandemic brought alot of change, weather it was for the good or the bad the event was shocking, a one of a kind experience that we all hope doesn't happen again. My memories of the months inside my house barely exist anymore repressed by my subconscious, yet when I saw Solitude by Frederick Leighton, the words said by the artist urged me to reprise the art work in a my own way, the words described a spot in Scotland where he went to study "no sound, no faintest gurgle even reaches your ear; the silent mystery of it all absolutely invades and possess you...". 
 
The pandemic back home made all of us adapt, school, peddlers, work, community, we took kare of eachother, we fought, we relaxed, we were together while being in Solitude, but at the end it left scars. It gives me the feeling that you get when you loose a step when going down stairs, your heart drops for a moment and then everything is fine, but your breath and your mind stay on that moment. The silence and seclusion Frederick described fit perfectly into how I perceived people in Colombia felt even when back home we were still surrounded by life and love. Like we went deaf with the slience on the streets and fell apart individually. 
 
The picture I took of my model mimics the one on Fredrick Leighton's piece, I adorned her with a blanket and clothes to simulate the cloth around the lady in the painting, I saw them fitting considering through lockdown staying cozy in bed and pajamas became normal, and my mother in an attempted to keep our routine would remind us to change clothes and do self care. I recreated the background through digital painting, and added a skull like formation on the back that could be subtle while blending into the cave like scenario. I symbol I assigned as a memento mori token since the number of casualties was something my father reminded us every day, to remember to be careful. 
---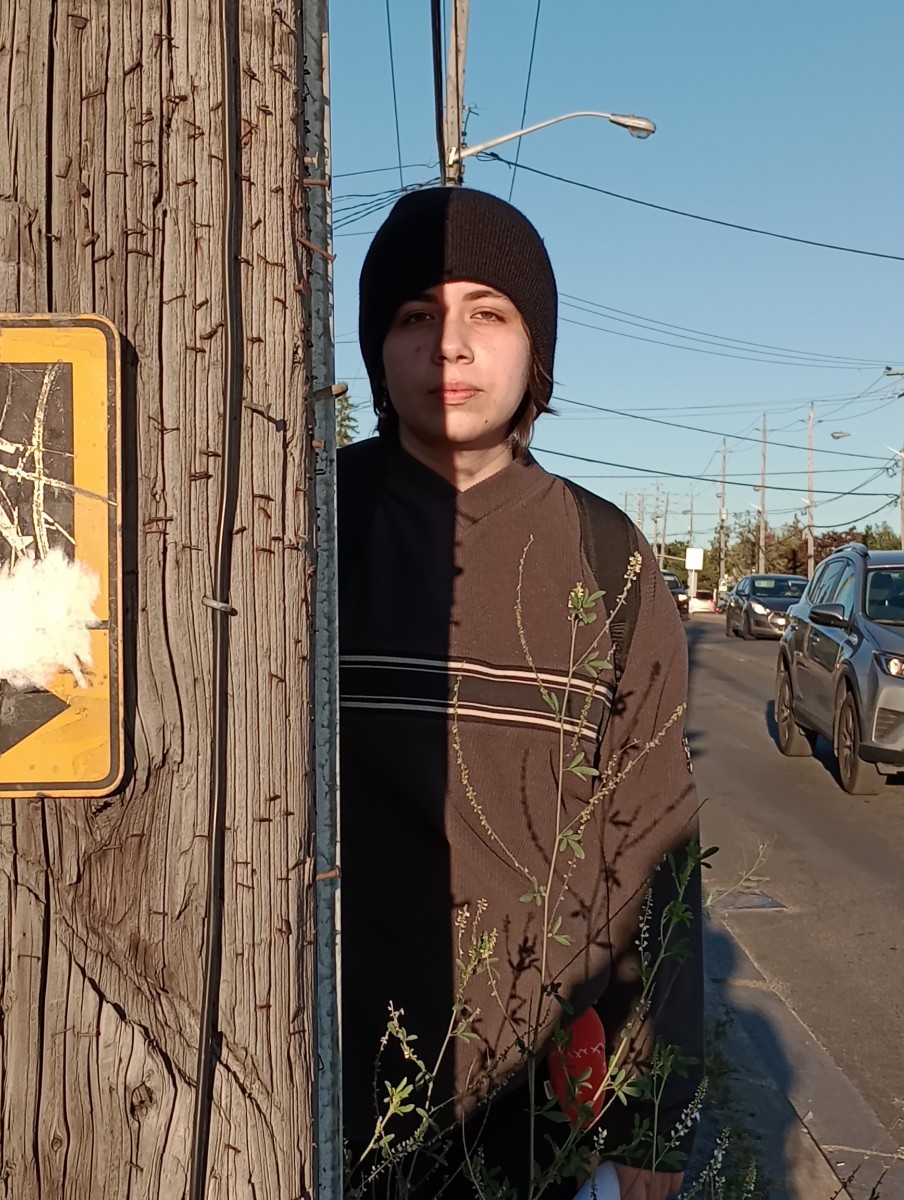 Artist: Isabel Cevallos (Iso)
Program: Visual and Digital Arts
Isabel Cristina Montoya Cevallos, is a Colombian artist born in 2004. In august of 2022, she travelled to Canada to begin her secondary studies at Humber College. She graduated high school 2021 and studied Plastic Arts in (FUBA) Bellas Artes. Informal practice of art was practiced through her life, influenced by her mother handcrafted leather bags which she would paint with well known artworks from Picasso, Salvador Dali and Oswaldo Guayasamin. Her paintings of forests and flowers are influenced by south american artist's and the environment. Due to her fond passion for animation, she developed characters and created digital content. Highly influenced by subcultures, the Renaissance and Baroque. 
To view more of Isabel's work visit: