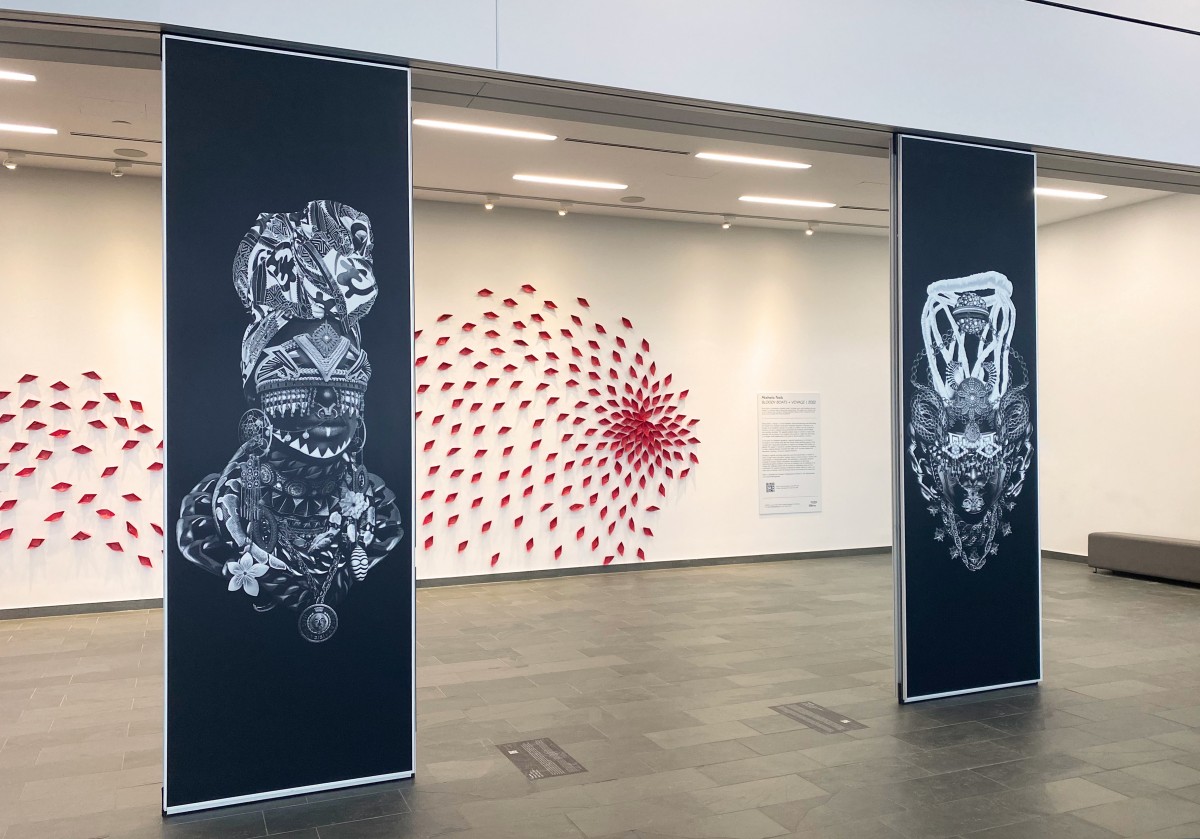 Humber Galleries in partnership with Humber's Black Heritage 365 Committee presents an artwork installation by Yung Yemi as part of Humber's Black Heritage Month Celebration beginning on February 1.
Humber Galleries worked with the City of Toronto to bring Yung Yemi's artwork to Humber Lakeshore for Nuit Blanche last October and is excited to bring another series of work by the artist to North Campus. The installation in the Learning Resource Commons features four large scale digital mixed media works which will be on display throughout the months of February and March.
"This body of work explores the duality of Blackness; on one hand vastly diverse ranging across regions, ethnicities, religions, and cultures; yet on the other hand, often seen through the western lens as the monolithic"black". The use of collage in these pieces is meant to mirror the cultural diversity of blackness by drawing together a diverse range of source materials. The symbolism contained in the adornment on each figure is an analogy for the wealth of cultural wisdom and history that we all carry with us. The Afrofuturist approach used in this body of work creates an undefined space that allows for blackness to exist separate from traditional westernized narratives commonly associated with black identity."
---
About Yung Yemi:
Adeyemi Adegbesan is a Toronto-based multi-disciplinary artist whose practice aims to examine the intersectionality of Black identity. Reflecting on Black cultural ideologies from pre-colonial, colonial, present day and future timelines; across regions, religions, varying levels of income and political lines, Adegbesan examines the dichotomy of the richness of Black experiences with the imposed societal homogeneity of 'Blackness'. Through his work Adegbesan pulls from these varying elements to create Afro-futuristic portraits that embody themes of history, fantasy, speculative futures, and spirituality.
Adeyemi is a self-taught artist whose practice incorporates photography, mixed media collage, murals and assemblage. He works out of his studio in Toronto's Kensington Market neighborhood and has shown work in Canada and the United States. He has also worked with brands such as HBO, Instagram, and the Toronto Raptors on commercial collaborations.
See more of his work at: yungyemi.com | Instagram | Twitter