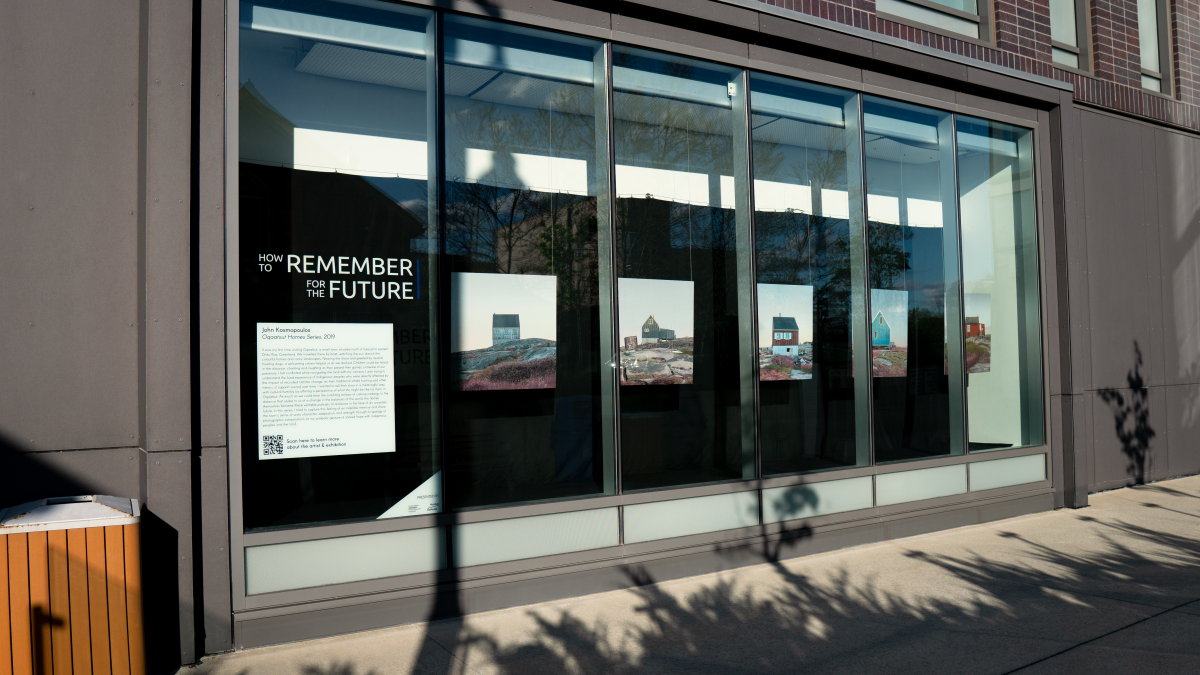 Oqaatsut Homes Series by John Kosmopoulos
Location: Humber College Lakeshore Campus - L Space Gallery Exterior Window
Medium: Photography
Artist Statement:
It was my first time visiting Oqaatsut, a small town situated north of Ilulissat in eastern Disko Bay, Greenland. We travelled there by boat, watching the sun drench the colourful homes and rocky landscapes. Nearing the shore and greeted by several howling dogs, a welcoming citizen helped us as we docked. Children could be heard in the distance, chanting and laughing as they played their games, unaware of our presence. I felt conflicted while navigating the land with my camera. I was trying to understand the lived experience of Indigenous peoples who were directly affected by the impact of recorded climate change, as their traditional whale hunting and other means of support waned over time. I wanted to tell their story in a meaningful way, with cultural humility, by offering a perspective of what life might be like for them in Oqaatsut. As much as we could hear the crackling echoes of calving icebergs in the distance that spoke to us of a change in the balances of the world, the homes themselves became these veritable portraits of resilience in the face of an uncertain future. In this series, I tried to capture this feeling of an indelible memory and share the town's sense of unity, character, adaptation, and strength through a typology of photographic compositions as my symbolic gesture of shared hope with Indigenous peoples and the land.
Artist: John Kosmopoulos | Humber College Professor, Faculty of Social and Community Services
Artist Bio:
John Kosmopoulos is a photographer who lives and works in Toronto. He has received multiple distinctions for his work, with his images featured in galleries, on film, and in several national and international publications. Always in pursuit of new experiences to fulfill his artistic interests, John embodies an eclectic aesthetic philosophy, preferring a more generalist approach in his photography. His intent is to capture the complexity of beauty across multiple subjects and translate them back to the viewer with a felt aesthetic that is thematic, symbolic, and cinematic. John is also a Professor at Humber College in the Faculty of Social and Community Services, where he teaches in both the Bachelor of Behaviour Science and in the Developmental Service Worker diploma programs.