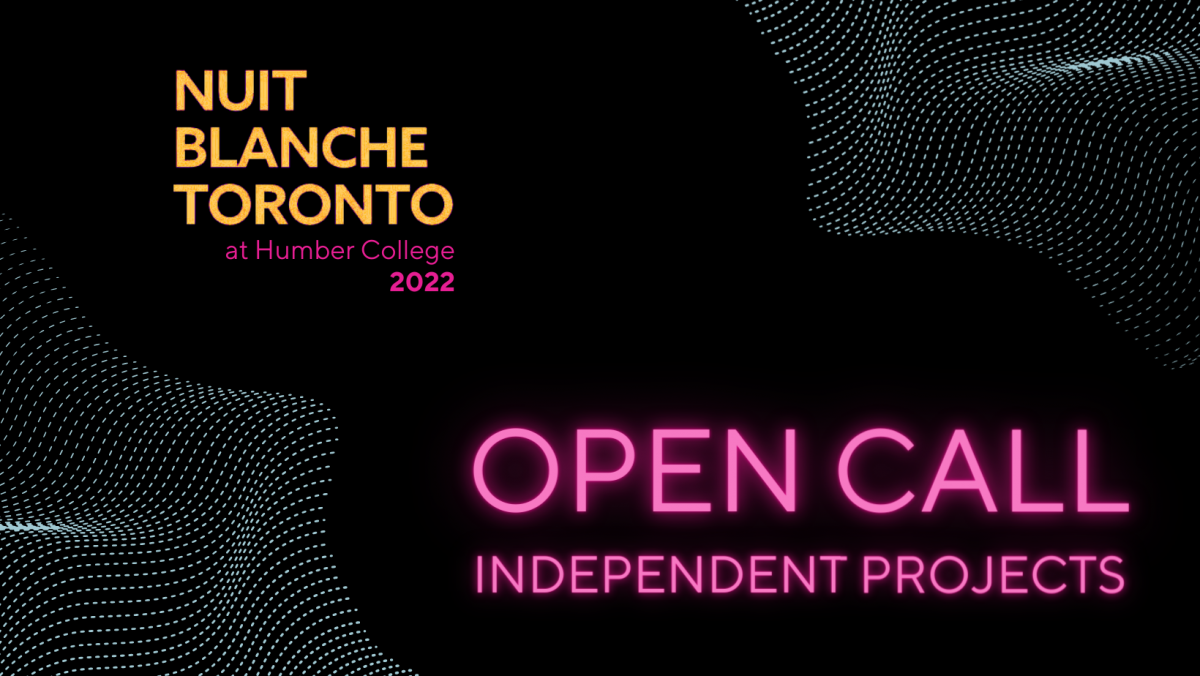 Nuit Blanche Toronto is a free and annual night-time event, produced by the City of Toronto. Its mandate is to connect contemporary art to the broadest possible publics and to create opportunities for audiences to explore and engage with contemporary art in public spaces.
Earlier this year, the City made the difficult decision to postpone the popular all-night celebration for 2021 due to the COVID-19 pandemic. However, we are excited to announce that Nuit Blanche Toronto will return October 1st 2022, again led by Artistic Director Dr. Julie Nagam as a city-wide celebration to mark its 16th edition and help close out ArtworxTO: Toronto's Year of Public Art.
As a major exhibition hub for Nuit Blanche Toronto, Humber College Lakeshore Campus is now accepting Independent Project applications. These are self-produced projects that can be installed in traditional and non-traditional spaces, such as parks, window vitrines, courtyards, storefronts, office towers, parking lots, and laneways. Applicants from any artistic discipline are eligible, but proposals ought to have a strong visual component and be rooted in contemporary art practices. Proposals should also address and integrate Nuit Blanche Toronto's curatorial theme The Space Between Us in their project and must be located on Humber College Lakeshore Campus.
The Independent Project program is open to all Humber College students, faculty, alumni, and staff, as well as Toronto-based professional artists, collectives, and arts organizations. All applications will be reviewed by a Selection Committee comprised of the Nuit Blanche Artistic Director, City of Toronto staff, and Humber College staff. Final selections will be made by the Artistic Director.
Application deadline has been extended to Monday, February 7, 2022, at 11:59pm EST.
Please submit applications materials via email to diane.pellicone [at] humber.ca
Click here to review the Application Guidelines
Click here to download the Application Form
---
Information Session:
Are you an emerging artist interested in applying to a professional art call for the first time? Do you want to strengthen your writing skills when drafting a proposal? Maybe you're just interested in learning more about Nuit Blanche Toronto? Or you're feeling a little intimidated by the whole process?
Whatever the reason, if you have any questions about Humber Galleries's Call for Nuit Blanche Independent Project Proposals, please tune in to our upcoming Information Session. Presented by Humber Galleries and featuring Nuit Blanche Toronto's Artistic Director Dr. Julie Nagam, this free online session will cover the application process and invite participants to ask any questions they may have regarding the Independent Project program and upcoming all-night event.
This event is free, however advance registration is required. Please click here for further instructions. We hope you can join us!
Date: Thursday, January 20, 2022
Time: 12:00pm EST (feel free to bring your lunch!)
Format: Online